US map shows at-risk areas for Lyme disease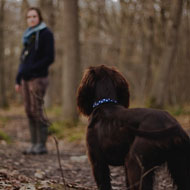 Research 'could help to predict human cases'
A map showing the most at-risk areas for Lyme disease infections in dogs could help to predict cases in humans, US scientists have said.

New research published in the PLOS ONE journal predicts the prevalence of canine Lyme disease in the 48 contiguous US states. It is hoped the forecast map will help to improve patient care for both humans and dogs.

Ticks that carry the disease-causing bacterium, Borrelia burgdorferi, were once thought to be present only in northern parts of the US. However, recent research shows they are now in half of US counties, including in the southern states.

Initial symptoms of Lyme disease are 'flu-like' but if left untreated can cause long-term complications of the heart, nervous system and muscles.

Researchers studied nearly 12 million B. burgdorferi antibody test results from 2011-15, alongside factors associated with Lyme disease, such as forestation, surface water area, temperature, population density and median household income.

Michael Yabsley, a parasitologist at the University of Georgia, explained: "Dogs really are the canary in the coal mine for human infection. Our research team has growing evidence that the relationship between risk of canine infection and human disease is strong.

"Because dogs are being tested for exposure during annual exams, these data are available on a national scale, something that is difficult to achieve when studying the ticks and environment directly."

The researchers are expanding their analysis and plan to release further data on the relationship between human and canine disease later this year.