FEI Tribunal lifts 11 provisional suspensions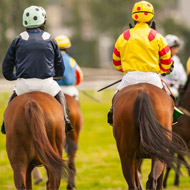 Horses previously tested for banned substances

Provisional suspensions being served by 11 equine athletes - including two show jumping, two dressage, seven endurance and three endurance trainers - have been lifted by the FEI Tribunal.

The two show jumping athletes, Brazil's Marlon Modolo Zanotelli and Great Britain's Henry Turrell, both had their provisional suspensions lifted as of midnight on 27 April. Their horses both tested positive for the banned substance Sparteine after competing at separate events last month.

The FEI Tribunal says that its decision to lift the provisional suspensions was mainly based on scientific evidence presented by the two athletes which suggests the likelihood of food contamination.

The provisional suspensions imposed on the endurance athletes and trainers were lifted at midnight on 30 April, due to the reclassification of a banned substance. Their horses tested positive for caffeine and a number of metabolites whilst completing at various events in Al Wathba earlier this year.

In a separate case, two dressage athletes - Adrienne Lyle and Kaitlin Blythe - had been provisionally suspended since 5 April. Their horses tested positive to the banned substance Ractopamine whilst competing in Dressage competitions in Wellington (USA) in February.

Their provisional suspensions were lifted at midnight on 28 April following evidence provided by the two athletes that a feed supplement given to the horses had been contaminated.

The FEI's Prohibited Substances List is divided into two sections - Controlled Medication and Banned Substances. Controlled Medication substances are those that are used regularly to treat horses, but which must have been cleared from the horse's system by the time of competition. Banned substances should never be found in the body of the horse.

In the case of an adverse analytical finding for a Banned Substance, the Person Responsible is automatically provisionally suspended from the date of notification. The horse is suspended for two months.