Profession saddened by the passing of Lord Soulsby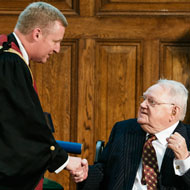 Inspiring vet has died at the age of 90

Tributes are being paid to Lord Soulsby of Swaffham Prior, who has sadly passed away at the age of 90. Lord Soulsby's career has been described as unique and "truly exceptional", dedicated to bridging the gap between human and veterinary medicine.

Lord Soulsby was the first veterinary surgeon to become a Life Peer of the House of Lords in 1990. He was also the first veterinary, non-medical president of the Royal Society of Medicine (RSM), where he served from 1998-2000.

The RSM and RCVS have expressed sadness at his passing. RCVS president Chris Tufnell said Lord Soulsby gave an "outstanding service" to the profession, veterinary science and animal welfare, and was known for his "endearing personality as much as his intellect".

"He will be missed by many colleagues in the veterinary world but his legacy will live on through inspiring veterinary surgeons from all walks of life to work more closely with other healthcare and medical professionals and through his numerous published works and papers. Our sympathies are with his family and friends."

A 1948 graduate of the Royal (Dick) School of Veterinary Studies, Lord Soulsby was a professor of parasitology at the University of Pennsylvania, before moving to the University of Cambridge as dean and professor of animal pathology. He was also a visiting fellow or professor at institutions in Australia, Poland, Austria, Nigeria, Germany and the West Indies.

In 2015 he was awarded the Queen's Medal, the highest award that the RCVS can bestow upon a veterinary surgeon. It recognised his contribution to One Health, as well as his international work as a fellow and professor across the globe.

Judy MacArthur Clark, a friend of Lord Soulsby, is quoted by the BEVA as saying the family are in the process of setting up a charity - The Soulsby Foundation - in his honour. It will support fellowships in One World One Health. Details of a memorial service will be published at a later date, though it is expected to take place in London this autumn.
Image courtesy of the RCVS