Facial expressions research to help horses in pain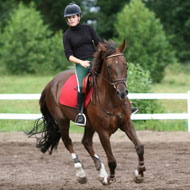 Researchers develop ethogram to help trainers recognise pain sooner

Horses may soon be saved from needless pain and suffering, thanks to new research led by the Animal Health Trust (AHT).

Studies suggest that owners, riders and trainers have a poor ability to recognise signs of pain when horses are ridden. As such, problems are labelled as rider-related, training-related, behavioural, or deemed 'normal' for that horse.

In a new study, equine orthopaedics specialist Dr Sue Dyson is developing an "ethogram" – a catalogue of behaviours – for professionals and owners to help them identify signs of pain.

In the first stage of testing, Sue and her team asked various people to apply the ethogram to photographs of horses' head while they were ridden. For example, could the assessors see the whites of their eyes, could they notice different ear positions and could they notice a tightness in the muzzle? They found that the assessors were reasonably reliable in identifying these different facial expressions.

In the second stage of testing, Sue assessed whether the ethogram could be used to distinguish between sound and lame horses. During this stage, she applied a pain score of 0-3 to each feature of the ethogram (ears, eyes, muzzle etc.) and then totalled to find out an overall pain score for each horse.

"Results showed there was a scientifically significant difference in pain scored given by the assessors for clinically lame and sound horses," said a spokesperson for the AHT. "This is a huge step in providing the application of Sue's ethogram, which could potentially save horses from needless suffering and chronic injuries as owners and trainers are able to recognise pain sooner and get those horses the veterinary care they need."

Looking ahead, Sue and her team aim to develop a whole horse ethogram and its application to non-lame and lame horses, to differentiate between manifestations of conflict behaviour.