Welsh rugby star to speak at BVNA Congress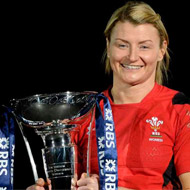 RVN will share her experiences of team environments

Welsh regional rugby coordinator Rachel Taylor RVN will deliver the keynote speech at BVNA Congress in October, the BVNA has confirmed.

Rachel, who became an RVN in 2010, has been involved in veterinary nursing since the age of 19. Having worked in several busy and established practices, Rachel considers herself very fortunate to have worked with such diverse and professional teams.

Rachel played rugby for over 10 years, but with retirement on the horizon she took a new career path with the Welsh Rugby Union as a regional rugby coordinator. The role has given Rachel the opportunity to give something back to her home country by helping to grow the game and making rugby sustainable.

Rachel has led both the 7s and 15s International Welsh Women's senior teams. With 62 international caps under her belt, she is hoping to make the squad for what will be her 3rd Rugby World Cup in August 2017.

Facilitating and driving equality within women's sports is a huge incentive for Rachel. She is currently an ambassador for Women's Sports UK and an advisory member of the International Rugby Players Advisory Group.

After the World Cup, Rachel hopes to return to her veterinary roots and remain as an RVN. During her speech at BVNA Congress, she will share her experiences surrounding sporting team environments and how these translate to business.

BVNA Congress takes place 6-8 October 2017 at the International Centre, Telford. For more information about the event and to download a registration form visit bvna.org.uk.

Image (C) BVNA.