Guide Dog pups enjoy Easter treat hunt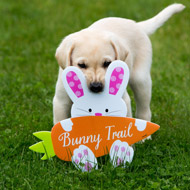 New experiences help puppies prepare for their futures
Easter arrived early this week for 10 adorable puppies who went on an Easter treat hunt organised by Guide Dogs.

The six-week-old puppies are from a litter of 10 labradors - Albie, Pippin, Spencer, Ceecee, Maddie, Hermia, Pickle, Pastel, Sasha and Cathie.

Staff hid bits of kibble around a specially-decorated area to encourage the young pups to forage.

"Guide Dogs encourages its puppies to have as many different experiences as possible, so they'll grow up to be confident guide dogs," said a Guide Dogs spokesperson.

"While the spring-themed search was great fun, it also helped to prepare the pups for their futures as life-changing guide dogs."

The hunt took place at the charity's National Breeding Centre, Leamington Spa, which has the capacity to breed 1,500 puppies a year.

Founded in 1934, Guide Dogs gives people with sight loss a new start in life through guide dogs and other services.

The charity enables people that are blind or partially sighted to take a new path to freedom and independence after losing their sight.