BVLGBT+ group launches new student support network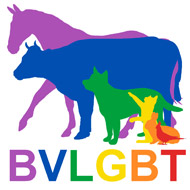 LGBT+ veterinary students are twice as likely to face discrimination
A new network which promises to promote an open and inclusive environment for LGBT+ veterinary and veterinary nursing students has been launched by the British Veterinary, Lesbian, Gay, Bisexual, Transgender and others group (BVLGBT+).

In 2016, a BVA-AVS student survey found that LGBT+ students were over twice as likely as non LGBT+ students to have faced discrimination due to their sexual orientation or gender identity while at their place of study.

Over the last year, BVLGBT+ has been working with veterinary schools up and down the UK to help support LGBT+ students by taking part in welfare events and developing student LGBT+ networks.

"Studying as a veterinary or veterinary nurse student can be challenging enough and we feel that no student should have to face this type of discrimination," said an BVLGBT+ spokesperson.

"During the following 12 months we are aiming to visit each veterinary school and major nursing colleges to increase the reach of the network and to help promote LGBT+ visibility and equality."