Survey reveals top things vets wished all pet owners knew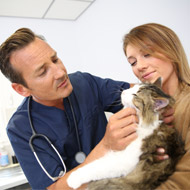 Findings kick-start National Pet Month

A new survey of vets and nurses across the UK has revealed the most frequent things veterinary professionals wished all pet owners knew.

Coming in at number one is recognising when a pet is overweight. More than one in five veterinary professionals said the top thing they wished they wished their client knew about their pet was diet related.
Suggestions ranged from considering "Am I feeding them the right food?" to "Pets need a lot less food than we think!"

More than 500 vets and nurses took part in the survey, which was conducted by the Veterinary Animal Welfare Coalition. Made up of leading veterinary organisations and vet-led charities, the Coalition aims to help pet owners better understand their pets' five welfare needs.

Covering a wide variety of pet care issues, the answers fell in a variety of different themes. Topping the list of things veterinary professionals wished all pet owners knew are:

How to recognise when your animal is overweight
That flat-faced breeds suffer lots of health and welfare issues
How to recognise signs that your animal is in pain
You have a responsibility to care for your pet properly and follow the five animal welfare needs
That your veterinary team is the best place to go to for advice on all areas of pet care, including what may be the most suitable pet for you
"Every owner loves their pet; however, the vet team often see animals with problems that could be avoided," commented Gudrun Ravetz, president of the BVA. "Vets and vet nurses are invaluable sources for pet care information with years of training and experience under their belts, and will be more than happy to answer any queries or concerns owners may have about their pets."

Throughout National Pet Month (1 April - 1 May 2017), the Veterinary Animal Welfare Coalition - The BVA, BVNA, BSAVA. BVZS, Blue Cross, PDSA and RSPCA - will be tweeting the various things vets and nurses wish owners knew with the hashtag #Wewishyouknew.

"People bring their pets to the veterinary practice when they are sick, however, what they also do not realise is that the Veterinary team can also provide a lot of advice for keeping pets healthy too," said Samantha Morgan, president of the BVNA.
"From diet and exercise to flea and worming treatments, veterinary nurses and veterinary surgeons have the knowledge to keep pets happy."