PDSA Order of Merit for Cheshire dog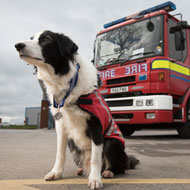 Border collie honoured for international search and rescue work

A Cheshire Fire and Rescue Dog has been awarded the esteemed PDSA Order of Merit, for his outstanding contribution to both Cheshire and the UK's International Search and Rescue Teams.

Over the past 11 years, Bryn the border collie has worked alongside fire and rescue teams, saving lives in some of the most devastating scenarios. These include prominent disasters, such as the 2011 earthquake and tsunami in Japan and the 2015 Nepalese earthquake, both of which claimed thousands of lives. In addition to his international work, Bryn has taken part in many rescue missions, including building collapses, missing persons' searches and gas explosions.

Bryn's handler, Steve Buckley, requested a search and rescue dog for Cheshire following a rescue mission in India, in 2001. During the mission, Steve observed the exceptional work of the rescue dogs involved and the positive impact they had on those affected. Following this, Bryn was selected from a litter of puppies and began training with Steve.

In 2005, Bryn became fully qualified and UKISAR graded. In 2009, Steve and Bryn completed the International Rescue Dog Organisation's 'mission readiness test'. The advanced assessment involved seven searches over a 36-hour period, as well as dog first aid, altitude work and a 10km march. They were one of just four UK dog teams to achieve this.

Bryn's natural skill and efficiency when searching small and large scale disaster zones has proved invaluable, significantly reducing the risk to the lives of his human counterparts and saving countless lives.

Following their time with Cheshire Fire and Rescue, Steve and Bryn went on to serve with the Avon Search and Rescue Team, before Bryn retired in May 2016.

Steve Buckley commented: "Bryn has been a dedicated and exemplary search dog throughout his career. He never wavered from his mission and those working with him had complete faith in his detection skills. His skills have been used to set training standards across the world.

"Dogs like Bryn only come along once in a lifetime and I'm incredibly lucky to have worked beside him for the past 11 years. Receiving the PDSA Order of Merit is a fitting end to his distinguished career. I am so proud of him."

Presenting the award, PDSA director general Jan McLoughlin said: "I'm proud and honoured to award Bryn his PDSA Order of Merit. His support for teams in dangerous search and rescue situations has made a profound difference to the lives of people across the world. His incredible talent and skills are truly rare.

"Today he joins an honourable line-up of animals that have displayed outstanding devotion and companionship in various walks of life. Although very different, they are all worthy recipients of the PDSA Order of Merit."

Head of operational policy and assurance at Cheshire Fire and Rescue Service, Gus O'Rourke, said: "Bryn and Steve have been an integral part of our International Search and Rescue Team, always ready to fly out to wherever in the world they were needed. Bryn's deployments haven't been without incident; in Japan, where Steve and Bryn went to help in the aftermath of the 2011 earthquake and tsunami, Bryn received serious life-threatening injuries while searching through the debris. He was treated by a field surgeon for temporary respite until he could get expert veterinary treatment.

"The pair have also been at the forefront of training other dogs and handlers, both nationally and internationally, so the great work done by these teams will continue and evolve. Many, many people the world over owe their survival to the brave, courageous work done by the search and rescue dog teams and I am so proud of both Bryn and Steve for their massive and dedicated contribution. I wish them both a long, healthy and happy retirement."

Bryn is the seventh dog to receive the PDSA honour, an award introduced in 2014 to recognise animals for their incredible acts of devotion and service.
Image ©PDSA