Trial shows promise for facial tumour cure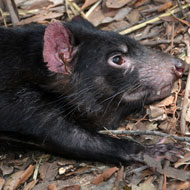 Immunotherapy shrank tumours in Tasmanian devils
Scientists say they have had a 'eureka' moment in using immunotherapy to cure Tasmanian devils of the deadly devil facial tumour disease (DFTD).

Led by the University of Tasmania, an international research team used immunotherapy on devils with golf-ball-sized tumours and observed the tumours shrinking and disappearing over a period of three months.

"This is almost a eureka moment for us because it's the first time we can say for sure that it was the immunotherapy that was making the tumour shrink," said Professor Greg Woods, who led the team at the university's Menzies Institute for Medical Research.

Lead author Dr Cesar Tovar added that the findings confirm it is possible to trigger the devil's immune system to recognise and destroy DFTD tumours.

"Our research shows that a DFTD vaccine is feasible. We are focusing our efforts on developing strategies to improve the devils' response to immunisation."

The breakthrough is the next step on from research published in 2015, which revealed the devil's immune system was capable of mounting an immune response to DFTD.

"This is an important step along the way to developing a vaccine to protect against DFTD and potentially to cure devils of established DFTD," Prof Woods added.