Bovine TB confirmed in foxhounds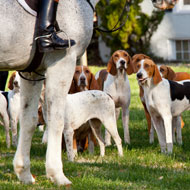 APHA investigations underway to confirm the source

A number of foxhounds have been euthanised after contracting bovine TB at a hunt kennels in Buckinghamshire.

Work is underway by the APHA to confirm the origin and route of the infection, but dogs are not thought to play a significant role in onward transmission of the disease.

One hound from the Kimblewick Hunt near Aylesbury was suspected to have contracted bTB in December. The APHA subsequently carried out further tests on other hounds and confirmed infection by post-mortem and culture of samples at the end of January.

In a statement, the hunt said approximately 25 hounds had been euthanised. More than 120 hounds remain in kennels and continue to be monitored and tested.

The hunt believes it is likely that the hounds contracted bTB from eating contaminated meat. Along with others across the country, Kimblewick operates a fallen stock service to farmers under guidance from Defra and its hounds are 'routinely fed fallen stock in compliance with current animal by-products legislation'.

Hunting activities were voluntarily suspended in December and the Kimblewick hounds have not been in contact with other packs since the initial case was suspected, the statement said. A monitoring and testing protocol has also been rolled out across the country.

No other cases have been reported and the hunt is working with Defra, APHA, Public Health England and the governing body for fox-hunting, the Masters of Foxhounds Association, to ensure the cases have been contained.

A statement from the APHA said: "The bacterium that causes bovine TB in cattle has been found in dogs at a kennel in Buckinghamshire. The origin and route of this infection is being investigated. Dogs are not considered to play a significant role in onward transmission of bovine TB."

APHA said the options for managing TB in dogs include further testing to identify all infected animals, treatment and euthanasia. Treatment is not recommended owing to the difficulty of achieving a cure, the risk to handlers and the potential for causing resistance to drugs that are important for human health. The decision, however, lies with the hunt kennels in consultation with their private veterinary surgeon.

BVA president Gudrun Ravetz added: "M. bovis infections in dogs have rarely been recorded and the risk of infection to other dogs and family pets is very low. While infections in pets are extremely rare, if you have any health concerns for your pet, you should contact your local vet as soon as possible."

TB is not a notifiable disease in live dogs but veterinary surgeons must inform APHA upon examining a carcase if TB is suspected.