Equine industry debates impact of Brexit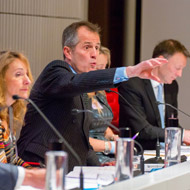 National Equine Forum discusses today's most pressing matters

The impact of Brexit on the horse industry and the impact of increases in business rates were some of the hot topics debated at the 25th National Equine Forum.

Held in London last week, the conclusion was that EU exit has to be regarded as an opportunity for the equine sector and that the sector needed to work together in speaking to the government about its priorities.

The National Equine Forum brings together influencers, leaders and debaters from across the industry to drive discussion on some of the most pressing equestrian matters.

This year's event sold out and had a waiting list, reflecting its growing popularity and importance to the equestrian industry.

The morning sessions focused on the horse industry in a changing world. Lord Gardiner highlighted the importance of the equestrian sector's role in the UK's national and rural economies with its contribution of £8 billion a year.

He added that Defra will soon be launching a consultation on proposals for the new Domestic Regulation on Equine ID, where views will be sought on the need to microchip older horses.

Dr Stewart Everett, chief executive of the Equine Register, presented the latest progress with the Central Equine Database. He explained that the database should be operational by summer 2017. Its primary purpose will be food chain safety, followed by disease management and welfare.

Sarah Phillips, chief operating officer at the British Horse Society (BHS) shared her concerns about the impact of dramatic increases in business rates. She claimed that riding schools and livery yards are being hit with increases well above the regional average. Some of these rises are as much as 350 per cent due to disproportionate increases on individual stables.

A panel debate assessed the potential effects that EU exit may have on the horse industry. Chaired by Roly Owers, chief executive of World Horse Welfare, the panel covered Brexit's potential impact on trade, identification, biosecurity and competition travel.

A summary of some of the NEF presentations is available at www.nationalequineforum.com.
Image (C) Craig Payne Photography