New candidate gene linked to epilepsy in humans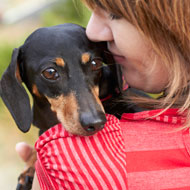 Canine study could transform epilepsy diagnostics and treatment
A recent study has identified a new candidate gene in dogs that has been linked to myoclonic epilepsy in both humans and canines. The collaborative study was undertaken by an international research team from the University of Helsinki, the LMU Munich and the University of Guelph, Ontario.

The discovery allows scientists to explore and better understand the condition through more in-depth studies of dogs suffering from the condition. In turn, studies of these preclinical models could lead to better diagnoses and treatment of myoclonic epilepsy in humans and canines.

Professor Hannes Lohi of the canine research group at the University of Helsinki, said: "The canine myoclonic epilepsy resembles human juvenile myoclonic syndrome in many aspects and the study has therefore meaningful implications for epilepsy research across species."

The DIRAS1 gene, although poorly characterised so far, has been linked as the genetic cause of myoclonic epilepsy syndrome in dogs. Researchers believe the gene might play a role in cholinergic neurotransmission in the brain, which would provide a fresh target for new treatment options. Myoclonic epilepsies are the most common forms of epilepsy.

The genetic test will significantly improve diagnostics for veterinarians, whilst breeders will be able to better identify affected dogs and prevent the gene being passed on to future litters.

The research team were also able to utilise new wireless video-EEG recording equipment, which allows for real-time observation of the electrical activities taking place before, during and after a seizure in un-sedated dogs. This new equipment means that dogs will no longer need to be sedated for epilepsy research.

Professor Fiona James of the University of Guelph, explains: "All the wires from electrodes are attached to a small portable device on the dog's back that transmits the data straight to our computers. Thus, the dog is free to move around and we can record the EEG for long periods at one go."

Professor Andrea Fischer from LMU Munich explained: "Video-EEG is a routine approach in the human epilepsy clinic but only piloted now for the dogs. The beauty of the method is that we can easily correlate the behavioural changes with the recorded electroencephalographs and compare them to human EEG results. Indeed, with this technique we were able to identify epilepsy at an early stage and prior to the development of generalised tonic-clonic seizures. Moreover, we found strikingly similar EEG patterns in dogs that have been described in human myoclonic epilepsy."

The study was published in February 2017 in Proceedings of the National Academy of Sciences (PNAS) of the USA.