Snail venom could treat chronic pain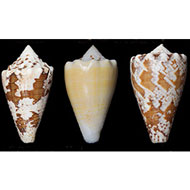 Compound offers a potential alternative to opioids

US scientists say a compound from the venom of a small snail could offer an alternative to opioids for pain relief.

Common to the Caribbean Sea, the Conus regius is a marine cone snail that is capable of paralysing its prey. The compound Rg1A in its venom acts on a pain pathway that is not targeted by opioids, according to new research published in the journal PNAS.

Most pain medications work through a limited number of pathways and are not sufficient to alleviate chronic pain. J Michael McIntosh, professor of psychiatry at the University of Utah says RgIA4 "works by an entirely new pathway" opening the door to new opportunities for treating pain.

Scientists hope that drugs using this pathway could reduce the burden of opioid use, which are highly addictive. Figures from the Centers for Disease Control and Prevention show 91 Americans die every day from an opioid overdose.

Significantly, the research team also found that the compound's beneficial effects greatly outlast its presence in the body, suggesting it may have a restorative effect on some components of the nervous system.

"What is particularly exciting about these results is the aspect of prevention," Professor McIntosh explains. "Once chronic pain has developed, it is difficult to treat. This compound offers a potential new pathway to prevent chronic pain from developing in the first place and also offers a new therapy to patients with established pain who have run out of options."

The research team administered the compound to rodents treated with a chemotherapy drug that causes extreme sensitivity to cold and hypersensitivity to touch. Rodents that did not receive the compound experienced pain after exposure to the chemotherapy drug, whereas rodents that did receive the compound did not experience pain.

While the compound works through the body in four hours, researchers say it was still preventing pain 72 hours after the injection.

Their findings suggest a9a10 nAChR (nicotinic acetylcholine receptors) act as a pain pathway receptor, and RgIA4 is an effective compound to prevent the receptor from being activated.

The next stage of pre-clinical testing is to investigate the safety and effectiveness of a new drug therapy.