Scotland to extend avian flu prevention zone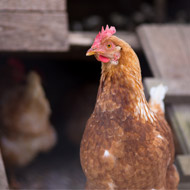 Birds may be let out if biosecurity is enhanced
Scotland has announced plans to allow poultry and captive birds to go outdoors from 28 February, on the condition that biosecurity is enhanced to protect against avian influenza.

The current prevention zone, which requires birds to be housed indoors or separated from wild birds, will expire at the end of the month.

From 28 February until the end of April the zone will be amended, and keepers in Scotland will have the option of letting their birds out, provided they take steps to improve biosecurity; for example:
Making sure bird feed and water can't be accessed by wild birds
Avoiding transfer of contamination between premises by cleansing and disinfecting equipment, vehicles and footwear
Reducing the movement of people, vehicles or equipment to and from areas where poultry or captive birds are kept
Implementing effective vermin control around buildings where poultry or captive birds are kept
Providing wash facilities or dips containing approved disinfectant (at the right concentration) at key points such as farm entrances and entrances to bird houses

The new zone will apply across the whole of Scotland, with no targeting of specific areas.

So far there have been no confirmed cases of avian influenza in domestic poultry or captive birds in Scotland, but there have been eight confirmed cases in domestic birds in England and Wales, as well as a number of wild bird findings. Northern Ireland also recently confirmed its first case in a wild bird.

Scotland's rural economy secretary Fergus Ewing said: "We do not expect the risk of H5N8 to reduce any time soon, which is why we are extending the Prevention Zone until the end of April…

"We will continue to provide updates over the next few weeks but in the meantime I would encourage bird keepers to continue to practice and improve, where possible their biosecurity measures."

Chief veterinary officer Sheila Voas added that keepers should start to think about steps they can take to improve biosecurity to protect birds let out on 28 February, including decontaminating ranges and keeping them clear of wild birds. She also advised keepers to speak to their vet for specific practical advice on reducing the risk of infection.

Earlier this week, Defra announced its own plans to update England's prevention zone when it expires on 28 February. The proposals give keepers the option to allow their birds outside from 28 February if certain conditions are met.