'Reproductive conflict' could explain menopause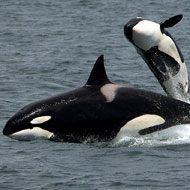 Older orcas face higher offspring mortality than daughters - study

Conflict between mothers and daughters could explain why orcas are one of only three species - including humans - that go through the menopause.

Female orcas generally stop reproducing in their 30s and 40s but, just like humans, they can live for many decades after menopause.

Led by Darren Croft of the University of Exeter, an international team studied 43 years of data gathered by the Centre for Whale Research and Fisheries and Oceans Canada. They found the mortality of older mothers' offspring is 1.7 times that of younger mothers' offspring.

One of the main reasons for this 'reproductive conflict' between mothers and daughters is their reliance on food sharing. They forage together and often share salmon, with offspring commonly relying on their mothers for food for years.

Previous research by the team showed that post-reproductive orcas play a 'grandmother' role, sharing knowledge of when and where to find food, which increases survival chances for their family group.

Professor Croft explained: "Our previous work shows how old females help but not why they stop reproducing. Females of many species act as leaders in late life but continue to reproduce, but this new research shows that old females go through the menopause because they lose out in reproductive competition with their own daughters."

Co-author Dr Daniel Franks, from the University of York, added: "…Our new work shows that if an old female killer whale reproduces her late-life offspring suffer being out-competed by her grandchildren. This, together with her investment in helping her grandchildren, can explain the evolution of menopause."

Follow up work by the team will involve the use of drones to study orca behaviour more closely, including closer analysis of mother-daughter conflicts.