African spotted genet found at depot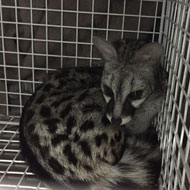 Exotic pet travelled 120 miles in 18 days

An African spotted genet found curled up in a tyre at a Milton Keynes depot has been reunited with its owner.

Two workers at the city's Mercedes Benz depot discovered the animal and took it to local vets, fearing it may have hitched a ride on a foreign delivery truck, according to MKCitizen.

Vets identified the animal as a spotted genet, a carnivore that is native to more than 25 African countries. As they were initially unable to locate a microchip, Vets4Pets Milton Keynes posted an appeal for information on their Facebook page.

Staff at the practice were shocked to discover the genet's owner lived in Brighton, meaning it had travelled around 120 miles in 18 days. It is thought it may have been stolen and later escaped.

According to MKCitizen, vets eventually found a microchip that had migrated near to the genet's tail, which proved its ownership.

Owner Kyle Watson told BBC News the two-year-old animal - named Kamarla - had been eating "non-stop" since returning home.
Image © Vets4Pets