One Health approach saves little dog with heart condition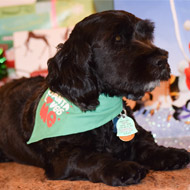 Vets and paediatricians treat Havanese with severe pulmonary stenosis

Veterinary surgeons and paediatricians in the US have joined forces to save a dog with a life-threatening heart condition. The collaboration is thought to be the first of its kind in veterinary medicine.

Two-year-old Rumple, a Havanese weighing around 14 pounds, was presented to the University of Florida (UF) Small Animal Hospital with severe pulmonary stenosis.

Cardiologists at the hospital usually treat around 10-15 dogs a year with the condition, but on this occasion their standard approach did not work.
To continue reading, please visit vetcommunity.com.
Image (C) UF College of Veterinary Medicine