Cats relax to classical music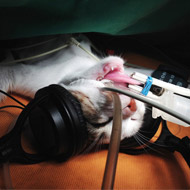 Study finds certain music beneficial for cats in surgery

Classical music is beneficial for cats in a surgical environment, according to a study published in the Journal of Feline Medicine.

Researchers at the University of Lisbon, Portugal, found that playing Samuel Barber's 'Adagio for Strings' to cats can have a calming effect.

Lead author of the study, Dr Michael Carreira, explains: "In the surgical theatres at the faculty where I teach and at the private veterinary medical centre where I spend my time operating, environmental music is always present, and is an important element in promoting a sense of wellbeing in the team, the animals, and their owners.

"Different music genres affect individuals in different ways. During consultations I have noticed, for example, that most cats like classical music, particularly George Handel compositions, and become more calm, confident and tolerant throughout the clinical evaluation."

After reading about the influence of music on psysiological parameters in humans, Dr Carreira decided to design a study to investigate whether music could have any physiological effects on his surgical patients.

Twelve female pet cats, who were undergoing surgery for neutering, took part in the study. The clinicians recorded their respiratory rate and pupil diameter at various points to determine their depth of anaesthesia.

Fitted with headphones, the cats were exposed to two minutes of silence (as a control), followed by two minutes each of Samuel Barber's 'Adagio for Strings', Natalia Imbruglia's 'Torn,' and AC/DC's 'Thunderstruck.'

The study showed that cats were more relaxed under the influence of classical music (as determined by their lower values for respiratory rate and pupil diameter), with the pop music producing intermediate values. By contrast, the heavy metal music produced the highest values, indicating 'a more stressful situation'.

The results suggest that playing the right music during surgery could allow for lower doses of anaesthetic agents, which would in turn reduce the risk of undesirable side effects.

Dr Carreira and his colleagues plan to extend their study by exploring what influence music has on other physiological parameters, including cortisol and catecholamines, in dogs as well as cats.

In the future, they wish to incorporate more sophisticated techniques, such as functional MRI and electroencephalography, into their investigations.
Image (C) International Cat Care