Dogs at risk from snakebites, warns PDSA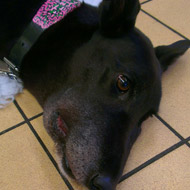 Recent prolonged sunny spells could mean that snakebites are more common

The PDSA is urging dog owners to beware of snakes in woods and grassland after saving the life of greyhound Cookie, who was bitten on Cannock Chase in Staffordshire. The eight-year-old dog is now recovering after a near-fatal encounter with an adder at the popular beauty spot.

Owner Lynn Pallatina said: "I didn't know what had happened to Cookie at first, she was sniffing around and then jumped back suddenly. I saw the end of a snake but I didn't think she'd actually been bitten – I thought they tended to stay away from people and other animals. But then she just lay down on the ground, opening and closing her mouth and within three minutes her face had started to swell badly so I knew something was wrong. I took her straight to PDSA and they asked if it was possible Cookie had been bitten by something, it was only then that it clicked it may have been the adder."

Kay Brough, head nurse at Wolverhampton PDSA said: "Adder bites to dogs are thankfully quite rare but when seen they are usually on the face or limbs, most likely as a result of the snake attacking in self-defence after being disturbed by an inquisitive dogs.

"The venom causes severe, rapid swelling and two small puncture wounds may be visible at the centre. The dog can also show signs of acute pain and may appear nervous or apprehensive. If not treated it can cause them to collapse and can even be fatal. Any owner noticing these symptoms should call their vet immediately for advice. Do not touch the wound, as this can spread the venom further."

She goes on to advise that if you do see an adder, do not try to approach it or photograph it. "The venom is toxic to humans too, although it isn't usually fatal due to our larger size. Keep your distance and put your dog on a lead immediately."

PDSA is the UK's leading veterinary charity, providing free treatment for the sick and injured pets of eligible owners in need. The charity receives no government or national lottery funding for its PetAid services, relying entirely on generous public support. For more information visit www.pdsa.org.uk.