Restriction zone lifted at Suffolk chicken farm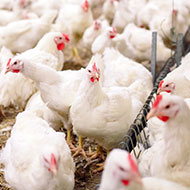 A one-kilometre restriction zone around a commercial chicken farm in mid-Suffolk has been lifted, following the completion of surveillance testing for avian influenza H5N3 with negative results.

Some 27,000 birds on the premises were culled after a veterinary surgeon identified the disease while investigating a fall in egg production. Poultry keepers are urged to take action to reduce the risk of disease in their flock by following government advice on biosecurity.