Equine vet scoops top farriery award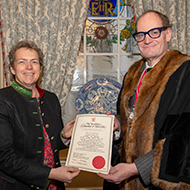 Prof. Renate Weller is the 33rd recipient of the WCF Honorary Fellowship

Equine veterinary surgeon professor Renate Weller has won the Worshipful Company of Farriers (WCF) Honorary Fellowship in recognition of her "outstanding contribution to the craft of farriery and the welfare of the horse".

Professor Weller received the award at a recent Court meeting in London. She is the 33rd recipient of the award, granted by the governing Court "to a person who has rendered distinguished service to the Company and/or the craft of farriery," since its introduction in 1923.

Renate said the award was a "total surprise," adding: "To be recognised within your own industry is one thing but to be recognised in such a special way by an allied profession is another. It is an amazing award and I am delighted to accept it".
Image (C) Sam Lane.