Complexities of bird trade 'underestimated', report finds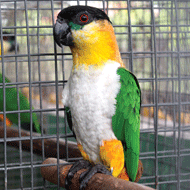 Urgent action recommended to secure future for South American birds

The complexities of South America's bird trade have been underestimated, a new report suggests.

Wildlife conservation group TRAFFIC published a review of the bird trade in Amazonian countries, concluding that the main exporters of some species are completely outside the region, for example in South Africa and the Philippines.

Banning the trade has resulted in a disappearance of birds for sale on the streets in many countries in South America, but much of the trade has gone underground, the report said. Peru presents the biggest regional challenge, both as an exporter and importer of species with neighbouring countries.

However, Brazil - which banned the commercial sale of wild animals in 1967 - continues to have a serious problem with internal trade of songbirds, mostly for competitions, despite stringent enforcement.

Lead author Bernardo Ortiz-von Halle explained: "Brazil has produced the opposite situation of a market monopoly: it has unintentionally placed the right to benefit commercially from the trade in its native species in the hands of any other country that chooses to profit from them."

South Africa was found to be the world's leading exporter of South American parrots between 2000 and 2013, while the Philippines was the main legal exporter of hyacinth macaws. In the same time frame, Peru commercially exported 37,233 birds listed by Cites, a fifth of which were imported from Amazon countries. Guyana exported around 145,000 birds belonging to 24 Cites Appendix II-listed species from 2000-2016. Finally, Suriname exported 74,890 parrots from 2000-2013.

Nonetheless, recent decades have seen a significant decline in most South American urban markets, which were once major illegal trade hubs. Illegal international trade in South American birds is at its lowest level in decades, TRAFFIC reported, although this is largely because most sought-after birds are already present in consumer countries.
Ortiz-von Halle added: "To secure a future for the region's increasingly threatened birds we need integrated strategies that seek urgently to halt or reverse habitat destruction and improve enforcement, complemented with economic incentives for local income generation through tourism and sustainable use of the natural resources. This offers the best pathway forwards for South America's remarkable birdlife."


Image © Arturo Hortas