Illegal puppies seized at NI ports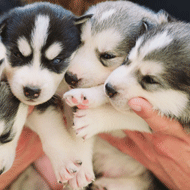 Officials say puppy trafficking "will not be tolerated"
Thirty-four illegal puppies have been seized in a matter of days at ports in Northern Ireland, during a series of vehicle checks.

Over 2,000 checks were carried out at Belfast and Larne ports between 3 and 10 December.

Working with local councils, the Department of Agriculture, Environment and Rural Affairs (DAERA) found puppies without the correct paperwork - in some cases being kept in inadequate conditions.

DAERA's head of animal health and welfare policy, Jackie Robinson, said: "The illegal movement of dogs through our ports will not be tolerated.

"Anyone who may have information on the illegal movement of dogs or an illegal breeding establishment can contact the relevant authorities. Contact details are available on the DAERA website."

Patricia Allen, chair of the Local Government Animal Welfare Project Board, added: "Councils give a high priority to the welfare of domestic pets and operate a rigorous enforcement policy to ensure full compliance of regulatory requirements."

Councils are now taking follow up action for the puppies found during this exercise.