New app aims to help tackle ASF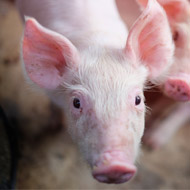 ASF COMBAT identifies areas for biosecurity improvement
Pharmaceutical giant Boehringer Ingelheim has developed a new app to help farmers protect their stock from African swine fever.

ASF COMBAT allows pig farmers to improve biosecurity on their premises by completing a short questionnaire based on scientific literature and practical experience.

While the risk of the virus is higher in ASF-affected areas, all farms must be prepared and understand the risks they face, the company said. The app highlights the most important risk areas to allow improved biosecurity, pig flow, management and feeding practices.

Risk areas covered by the app are:
Animals - ASF virus spreads by direct contact, and live animals can carry the virus.
Transport - vehicles that have carried infected pigs can be a risk to other farms because ASF virus is highly resistant in the environment.
People - how farm staff behaves can affect the risk profile of the farm.
Management - the daily routines on the farm are critical in the prevention of ASF entering the herd.
Feeding - ASF virus can stay infective in kitchen scraps, catering waste or food leftovers contaminated with infected pork.
Location - proximity to infected swine, wild boar can pose serious risk that need to be understood.

Boehringer said the app is intended to identify potential areas for improvement, not to replace the advice of a veterinary surgeon or health authorities.

ASF COMBAT can be downloaded as an app from the Apple Store or Google Play, or accessed online: https://prevent-asf.com/index.php?action=users_public_login