Chester Zoo receives over £120,000 in donations following fire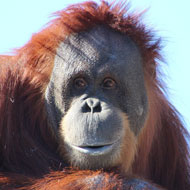 Funds to be spent on conservation projects
Following the devasting fire at Chester Zoo on 15 December 2018, well-wishing members of the public have donated over £120,000 in funds to help repair the damage.
The fire claimed the lives of numerous rare insects, frogs, fish, snakes and small birds.
Chester zoo has said that it is "totally overwhelmed" by the donations received, which is more than double the amount of the original £60,000 target.
Jamie Christon, chief operating officer at the zoo, commented that the Justgiving donation page was set-up in response to the enormous number of enquiries from the public asking how they could help.
Fortunately, many of their 21,000 animals were saved by being tempted away from the fire with food. Orangutans, macaques, gibbons, large birds and other animals survived, but rehoming is now taking place within the zoo.
Mr Christon explained: "It's quite a complex task. For example, we have got 51 primate moves - that's 51 moves of large mammal species across the zoo over the next few days to make sure their welfare is maintained."
Mr Christon said that while the cost of repairing the roof will be covered by insurance, the money raised will be spent on conservation projects.
Commenting on the affected animals, Mr Christon said that they were "part of conservation breeding programmes" and that Chester zoo "will look to be part of those vital projects once again in the near future".
The cause of the fire has been deemed "accidental" but the zoo is working closely with firefighters to establish exactly what happened.