Vets urged not to carry out amputations on hedgehogs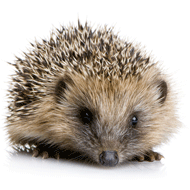 Experts say wild hedgehogs face a 'bleak future' with three legs
Vets are being warned not to carry out limb amputations on injured hedgehogs, as they are unlikely to survive in the wild.

The Wildlife Aid Foundation (WAF) issued the warning following a recent case, in which a vet amputated a hedgehog's leg in a well-meaning attempt to save the animal's life.

WAF recommends that limbs are repaired where possible, or if this cannot be achieved, the most humane course of action is euthanasia.

Hedgehogs are the second most common species admitted to the charity's centre and a fifth of these animals have suffered limb injuries, such as fractures, luxations or amputations. While these mammals respond well to medical and surgical treatment, in some cases the injury may be too severe.

WAF founder Simon Cowell said: "Vets may believe they are doing the right thing by amputating broken and damaged limbs because hedgehogs are hardy enough to survive such procedures, but once the animal is back in the wild it needs to be able to dig for food and scratch and groom effectively.

"Hedgehogs pick up a lot of ticks and lice and over the years we have seen many cases where hedgehogs with missing and injured limbs get completely infested. The bites become infected and they die very slow and painful deaths.

"As hedgehogs released back into the wild after amputation are likely to suffer and unlikely to survive, the kindest course of action if a limb cannot be saved is to euthanise."

Cases such as these underline the importance of vets and wildlife rescues joining together to share knowledge, he added. WAF encourages vets to contact them or another reputable wildlife rehabilitation centre with any doubts about the appropriate treatment for wildlife.