Scientists to monitor declining honey yield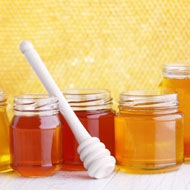 A new scheme is set to help scientists understand why the UK's honey yield is declining.
The Centre for Ecology and Hydrology (CEH) is asking both amateur and professional bee keepers to send in regular honey samples, for analysis using advanced methods including DNA barcoding and mass spectrometry.

Scientists will identify the types of pollen and pesticide residues in the honey, as well as some of the diseases to which bees are exposed.

In the UK, the average yield per hive has been around 11kg - compared to the 22-45kg that was typical in the 1950s. Figures from the European Commission show the UK's honey yield fell from 6,400 tonnes in 2011, to 2,800 in 2015.
Negative impact on bees and their productivity include poor weather, loss of wild flowers, pesticide use, climate change and an increase in disease.