Lack of information over non-stun exports, BVA warns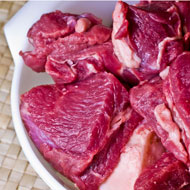 The BVA is raising serious concerns about the lack of information on UK exports of non-stunned meat.
In response to a parliamentary question, Defra recently admitted that it does not hold data on how much of this meat is exported.
Furthermore, a trade deal with Saudi Arabia was recently announced, which could greatly increase exports of British lamb and other meat, some of which may be from animals that were not stunned before slaughter.

BVA is calling for information on non-stun exports, firstly to find out how much meat the UK is exporting from these sources, and secondly to ensure supply for non-stun meat does not exceed demand. BVA president John Fishwick said that with Brexit looming, there is a "pressing need for clarity" on these exports.