Report reveals scale of pet owners who do no pre-purchase research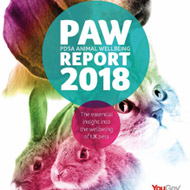 More than five million pet owners (around one in four) undertook no research at all before taking on their pet, according to the eighth annual PDSA Animal Wellbeing Report.

The report, which surveyed more than 4,600 pet owners and veterinary surgeons, also found that just five per cent of pet owners sought advice from a veterinary surgeon before their purchase.

The PDSA is now calling on the profession to engage with prospective pet owners before they take on an animal. "This way they will be empowered to make informed choices and be equipped with the knowledge to ensure a lifetime of wellbeing for their new pet," the charity said.