New app to improve street dog welfare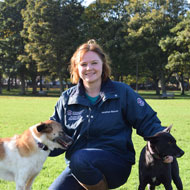 A new free app will support vital work in clinics caring for stray dogs around the world, experts say. Created by the University of Edinburgh, the tool allows vets to track the wellbeing of dogs going through catch-neuter-return schemes, which are common in countries with large numbers of strays.

Vets say the welfare of individual dogs can be overlooked during the process of capture, transport or surgery. The app, piloted across Asia and Africa, helps staff to monitor welfare, spot signs of distress and develop strategies to improve care. It was launched at BSAVA Congress on Friday 6 April.