Food group suspends operations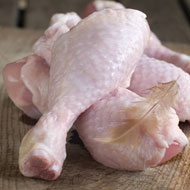 2 Sisters to retrain staff after Guardian/ITV footage
The 2 Sisters Food Group has suspended operations at its West Bromwich plant after an undercover investigation highlighted food safety concerns.

Workers at the site were covertly filmed in August as part of an investigation by the Guardian and ITV. The footage, released last week, shows a worker changing the source and slaughter date of poultry, which could result in consumers buying meat past its use by date.

Changing the reference number that shows where birds were slaughtered also makes the meat untraceable should there be a food safety problem.

Journalists filmed a worker picking chicken up from the floor and putting it back on the production line, and older poultry was mixed with fresher meat. Unsold meat returned by a supermarket was also repackaged and sent back to a different supermarket.

2 Sisters said it was 'shocked and distressed' by the allegations and footage. After launching its own internal investigation, the group says it has identified 'some isolated instances' of non-compliance with its quality management systems, and has therefore decided to suspend operations at the site to allow time for retraining all of its staff.

In a statement, it said: 'We will only recommence supply once we are satisfied that our colleagues have been appropriately retrained.'

The Food Standards Agency (FSA) has also begun an investigation at the plant. So far it says its inspectors 'have found no evidence of breaches'.

However, it is continuing to review the evidence and promises to take prompt and appropriate action if any breaches are found. The agency is also urging anyone with information on this investigation to contact them.