Dogs avoid people who snub their owners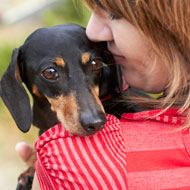 Social eavesdropping may not be an ability unique to primates
It's well known that dogs are highly intelligent beings that can respond to commands, sniff-out criminal evidence and even diagnose medical conditions. But now, new research has shown that they might even be able understand simple interactions between people.

In a recent experiment, Japanese researchers found that dogs tended to avoid people if they acted negatively towards their owners. This suggests that dogs are able to read social situations - an ability known as 'social eavesdropping'.

The experiment was designed to see if dogs can evaluate humans interacting with one another over an object.

The results revealed that dogs avoided taking food from a person who behaved negatively towards their owner, which in this case meant ignoring them.

In the experiment, the dog's owner tried to open a container to get a junk object that was inside, then requested help from an actor sitting next to him, while the dog watched the interaction.

In the helper condition, the actor held the container stable to help the owner open it. In the non-helper condition, the actor turned away and refused to help. A neutral person sat on the other side of the owner throughout these interactions.

After the instruction, both the actor and the neutral person offered a piece of food to the dog. The study found that dogs chose food randomly in the helper and control conditions, but were biased against the actor in the non-helper conditions.

The scientists say that the dogs' avoidance of someone who behaved negatively towards the owner suggests that social eavesdropping may be shared with a non-primate species.

The study, Dogs avoid people who behave negatively to their owner: third-party affective evaluation, was published in Animal Behaviour.