Rise in hospital admissions for dog bites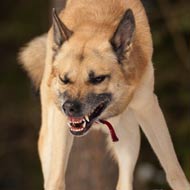 NHS figures "very concerning" - Battersea Dogs & Cats Home

Hospital admissions for injuries caused by dogs and other mammals are continuing to rise, according the the latest NHS figures.

Bites or strikes from dogs accounted for 7,227 admissions between March 2014 and February 2015 - a rise of 6.5 per cent.

Meanwhile admissions due to other mammals (which covers farm animals, horses, foxes, cats and rats) rose by 10.3 per cent.

Over a 10-year period, hospital admissions due to bites or strikes from dogs and other mammals have risen by 76 per cent respectively.

Battersea Dogs and Cats Home said the figures were "very concerning" but could be greatly reduced through better understanding of dogs' habits and body language.

Key figures published by the Health and Social Care Information Centre:
Admissions due to dog bites were generally higher in the summer months and lower in winter
Children aged 0-9 were most affected, with 1,159 admissions from March 2014 to February 2015
Admission rates due to dog bites were two to three times higher in the 10 per cent most deprived areas of the country, than the 10 per cent least deprived areas
The most common types of injury caused by dog bites were open wounds to the wrists, hands, forearms and head. Children suffered more injuries to the head than other age groups

Battersea's community engagement manager, Sharon Sealey, said: "A lot of people and especially young children don't really know how to behave around dogs or how to read a dog's body language.
"This is why a child should never be left alone with a dog. We know the consequences of this can be serious and sometimes even fatal."