Battersea celebrates 20 years of Friends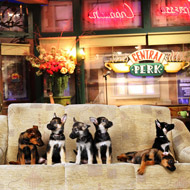 Charity names six German shepherd puppies after characters from the successful sitcom

To celebrate the twentieth anniversary of the hit TV series Friends, Battersea Dogs & Cats Home have named six German shepherd puppies after the show's much-loved characters.

One of the most successful programmes ever produced, Friends first appeared on our screens back in September 1994. The eight-week old puppies, named Ross, Joey, Chandler, Rachel, Monica and Phoebe, have been spending time at their very own Central Bark.

On Sunday September 7, the six puppies will join thousands of Battersea dogs past and present in Battersea Park, London, for the charity's annual reunion and fun day.

The event, set to reunite both two legged and four legged companions, celebrates man's best friend. Thousands of owners and their dogs are expected to attend the free family fun day, which is open to all dogs - not just ex-Battersea residents. Organisers say that the event will provide an opportunity for Battersea supporters and their dogs to get together, catch up with old friends and make some new ones.

Battersea Dogs and Cats Home aims never to turn aways a dog or cat in need of help. Since the charity was established in 1860, Battersea has rescued, reunited an rehoused over 3.1 million cats and dogs.

For further information about Battersea Dogs & Cats Home visit www.battersea.org.uk.

For more information about the reunion and fun day visit: www.battersea.org.uk/apex/webnewsstory?nsid=16392&pageId=222-newsitem

Image © Alex Macro Photography.