BEVA introduces new internship initiative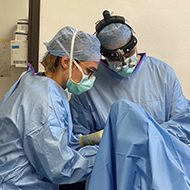 With Recognised Internships, practices must meet standards for approval.
The British Equine Veterinary Association (BEVA) has introduced an initiative for new veterinary graduates, Recognised Internships.

BEVA will give approval to high-quality internships that meet core standards, working with both corporate and independent practices.

Building on the organisations previous internship programme, Recognised Internships clearly outlines the core skills required to be covered in equine veterinary internships, as opposed to the old programme – which listed only available internships without required standards. This allows new graduates to find a position they know is up to standard for the industry.

BEVA chief executive, David Mountford, said of the new initiative: "We are delighted that nearly 40 equine veterinary practices have already signed up to our Recognised Internships initiative."

"It is such a positive sign that as a profession we are all committed to ensuring we can offer the best start to those entering the profession."

Practices who are interested in joining Recognised Internships are welcome to sign up, and BEVA asks that they contact Fiona Cunnington at fiona@beva.org.uk to begin the approval process.

Junior vice president of BEVA, Roger Smith, commented: "Even the older members of our profession remember the trials and tribulations of securing our first job; working out what we wanted to focus on, what the practice had to offer, what the rota was like, and what we were going to be paid.

"The new programme gives practices constructive guidance to provide a positive and inspirational introduction to a career as an equine vet, rather than the perhaps rushed and unintentionally unstructured, labour focused junior positions that have been experienced in times past."

Further information on Recognised Internships, the practices who have signed up, and to view current intern vacancies, visit the BEVA website.