Horse charity welcomes equine ID consultation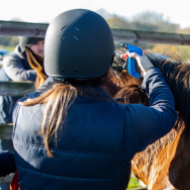 "The current system is simply not working" - Roly Owers, World Horse Welfare.
An equine charity has welcomed the launch of a new government consultation on changes to improve the equine identification and traceability system in England.

World Horse Welfare described the consultation as a 'positive step forward for horse welfare', and called on anyone connected to horses to participate.

Data on the Central Equine Database should be kept up to date, but the Department for Environment, Food and Rural Affairs (Defra) acknowledge that it is inaccurate and incomplete for several reasons, including that horse identification documents are paper-based.

Among the proposals under consideration by Defra is the ability for equine owners and keepers to update their horses' passport data online or via a smartphone app for free.

Roly Owers, chief executive of World Horse Welfare said: "Ever since the 2013 horsemeat scandal we have highlighted the pivotal importance of a shake-up in equine ID. The current system is simply not working and having a simple, effective digital system is vital to underpin many aspects of the enforcement of animal health and welfare regulations, not least being able to trace a horse suffering from poor welfare back to the person responsible for it.

"Defra now has a fantastic window of opportunity to get it right and we encourage anyone connected to horses to take part in the consultation. By so doing, you will have your voice heard and be contributing to a change for the better for horse welfare."

The consultation is now open to anyone in England, and WHW is working with the equine sector to encourage the governments in Scotland and Wales to follow suit. A simpler British Horse Council/World Horse Welfare survey is also expected to be released imminently, the results of which will be fed back into the Defra consultation.