Publication to help mitigate the spread of equine disease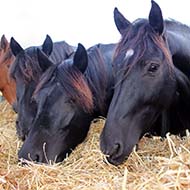 Guidance provides practical advice for those organising equine activities.
New guidance aimed at reducing the risk of equine disease transmission has been published by British Equestrian's Equine Infectious Disease Action Group (EIDAG).

The document, entitled Advice notes for BEF member bodies and organisers of horse gatherings, provides practical advice so those in the equine industry who oversee and organise equine activities can put effective and practical measures, guidance and education in place.

It is the result of months of input from the EIDAG, and is based on ten pillars of equine infectious disease management that organisers should follow, including:

responsibility
raising standards and education
risk communication and responsiveness
vaccination
vigilance and risk reduction
biosecurity practice: participants
biosecurity practice: stabling
early disease recognition
transparent information sharing
support national infectious disease management.
Based on compliance and measures in place, gatherings can then operate at gold, silver or bronze standard to illustrate the level of biosecurity in place to those looking to enter or take part.

The advice notes also contain general background information on a number of endemic and exotic diseases present in Great Britain to help educate horse owners on signs and management.

"Infectious Disease is with us all time, but the welfare of our equines and mitigating the risk of transmission is a team effort. Responsibility lies with all of us in the equine community to work together and play a part," commented Celia Marr, chair of the EIDAG.

"The recent EHV outbreak in Europe clearly demonstrated what is possible with a collaborative approach between horse owners, member bodies, veterinary practitioners, industry advisers and organisers. We managed the situation promptly so there were no linked cases on home soil, but without us working together, the situation could have been much worse.

"We hope the guidance notes are the catalyst for instilling the principles of biosecurity and their importance for all who interact with equines, be they grassroots or professionals. Getting the key messages across, education and practical advice is crucial to reducing transmission risk and keeping disease in our equine population in check."