RSPCA reiterates call for ban on keeping primates as pets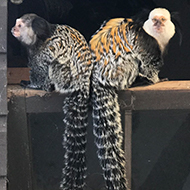 Inspectors rescue three monkeys living in a bedroom in Surrey.

The RSPCA has reiterated its call for a ban on keeping primates as pets after inspectors rescued three marmosets living in unsuitable conditions at a home in Surrey.

RSPCA inspector Natalie Kitchin was called out to the property in Weybridge after concerns were raised about the trio, comprising a mother, a daughter and a son, bought by the owner from a dealer elsewhere in the country.

"Although the owner had done as much research as he could on keeping primates, a domestic environment just isn't an appropriate place for monkeys to live," said Natalie.

"While these three had the run of a bedroom, this isn't an appropriate home for an intelligent wild animal that's evolved to live in the treetops of South America. Not only are they at risk of injury, they don't have access to UV light to help grow healthy bones and could develop metabolic bone disease as a result."

Natalie made several suggestions as to how the owner could meet the complex needs of his marmosets, but when she returned, he had not made the changes.

"In addition, the owner realised that his life situation was about to drastically change, and he acknowledged at that point that the lives of the little monkeys would be so much happier, healthier and enriched at a specialist primate facility," she said. "It was a wrench for the owner, but he made the right decision to sign the marmosets over to us and also made a contribution to the male's neutering procedure."

The RSPCA has long campaigned for a ban on primates as pets, and there are hints that a change could be on the horizon.
In December 2020, the government unveiled plans to ban the keeping of primates as pets together with an eight-week public consultation. Under the plans, it would be against the law to keep a primate as a pet in England unless the primate is being kept to zoo-level standards.

"Primates are hugely intelligent and socially complex animals," commented animal welfare minister Lord Goldsmith. "When they are confined in tiny cages, often alone and with little stimulation, their lives are a misery.

"It's important that we take action to prevent the suffering caused to them when they are kept as pets, and so I am delighted that we are moving a big step closer towards banning the practice. These proposals will ensure that we have the strongest protections in place for our animals."
The marmosets have since been re-homed at a specialist facility where they will live out the rest of their natural lives.