Survey seeks to better understand Equine Cushing's Disease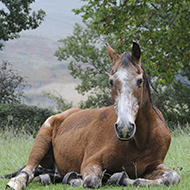 Findings may provide insight into how owners make treatment decisions.
Owners of older horses and ponies aged 15 years and over are being invited to share their views on pituitary pars intermedia dysfunction (PPID) in a new survey.

Also known as equine Cushing's disease, PPID is commonly found in older horses and ponies and is associated with laminitis, weight loss, delayed coat shedding and a long, curly coat.

The survey forms part of an international project to improve understanding of the causes of PPID and to improve early diagnosis, treatment, husbandry and nutritional management.

The findings will help researchers better understand how owners make treatment decisions and which decisions have the best outcomes. Scientists hope the findings may also provide an insight into how owners comply with administering medication and their capacity to feed PPID horses separately.

The survey is being conducted by the University of Melbourne - supported by the WALTHAM™ Equine Studies Group and SPILLERS - in collaboration with the Queensland University of Technology, The RVC, Boehringer Ingelheim Vetmedica and The Liphook Equine Hospital.

SPILLERS research and development director Clare Barfoot said: "The survey will provide valuable information to help improve the healthcare and management of PPID horses. It will also give us a clearer insight into current levels of knowledge amongst horse owners and how best to provide practical, targeted information on PPID."

To complete the survey, click here.