New exotic species webinar website launched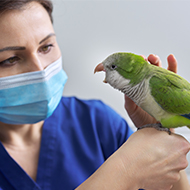 Just Exotics aims to help professionals broaden their exotic species knowledge.
A new website has been launched to help veterinary professionals expand their knowledge of exotic animals.

Developed by exotics vet Sonya Miles, justexotics.co.uk aims to help both those starting a career with exotic species and those looking to expand their existing knowledge.

The website includes a variety of on-demand webinars delivered by expert speakers, as well as care sheets, fact sheets and 'how to' videos. Species covered include exotic mammals, reptiles, birds, amphibians, invertebrates, fish and wildlife.

A Just Exotics spokesperson said: "Our content is suitable for vets, nurses and students, some of our content may also be helpful for clients and has been specifically designed to be convenient and affordable.

"More content will be added on a regular basis, and please, if there is something you specifically want covered, drop us a message, and will we do our best to make sure it becomes available."

The webinars cost between £15 and £55 (depending on the length), and include presentations by Sonya herself, Eliabetta Mancinelli, Agata Witkowska, Louise Ash, Sarah Pellett and many others, with more being uploaded regularly. CPD certificates upon complete of the content are also provided.