First ever vet nurse appointed BSAVA regional chair and council representative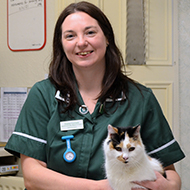 Emma Gerrard will represent the views of members in the Cymru/Wales region

The BSAVA has announced that, for the first time ever, a veterinary nurse has been appointed chair of a BSAVA Regional Committee and a council representative.
Emma Gerrard will take over from Kate O'Sullivan as chair of the Cymru/Wales region committee in April 2021. She has been a member of the committee since 2013 and has also served on the BSAVA Membership Development Committee. She also recently became the new Editor of the Pocketbook for Vet Nurses.
Ms Gerrard is a registered animal medicines advisor for companion and farm animals, a clinical coach and a tutor for Oncore.
In her role as a council representative she will ensure the views of members in the Cymru/Wales region are represented in council meetings and in discussions with Trustees and members of the Management Team at Woodrow House.
She said: "Being appointed the first VN Council Representative and Regional Chair is a massive achievement for myself and my nursing colleagues. It hasn't been possible for a VN to fill a Regional Officer role until now.
"I know how long and hard colleagues have worked in order to make this happen and, for that, I am grateful. As the Committee Chair, I would really like to fly the flag for nurses I hope to inspire and empower nurses to join the Association and illustrate what opportunities are available."
BSAVA president Professor Ian Ramsey said: "Nurses have already served the Association with distinction in many of our Committees for several years and this is another step towards recognising the importance of nurses within the veterinary team and therefore within the Association. I look forward to seeing more nurses coming forward to help shape the Association in the future."
Image (c) BSAVA.