Nutrition course joins Vet Nurse Merit Awards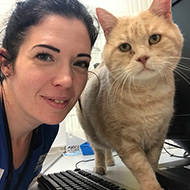 Course will discuss the role of nutrition in life stage and clinic disease management.
A new nutrition course combining online lectures, practical teaching and variety of resources and quizzes has been added to the BSAVA's popular Veterinary Nurse Merit Awards (VNMA).

VNMA's are designed to offer RVNs in primary care practice the opportunity to develop their knowledge and skills without the commitment of a certificate or diploma. To achieve an award, students must demonstrate their understanding of the subject through a final assessment.

Beginning in March 2021, the Nutrition VNMA will be led by Georgina Woods RVN who holds the Canine and Feline Veterinary Health Nutrition Certificate and the American Veterinary Technician Specialist (VTS) Nutrition Certificate. Following the completion of this course, delegates will be able to:


discuss methods of obtaining a thorough nutritional history, extracting all relevant clinical information and how to holistically appraise the situation
recognise the different techniques for building good communication with the pet owner and its importance for attaining compliance with your nutritional recommendation
discuss the role of nutrition in both life stage and clinic disease management, where nutrition will play a pivotal role
gain a more in-depth understanding for non-standard diets and how to manage differences of opinion
describe the many ways in which rabbit nutrition differs from that of the cat or dog, and how their anatomy relates to their different essential nutritional requirements.

BSAVA's head of education, Lucie Goodwin, said: "We are pleased to be able to add this important and highly topical course to our expanding repertoire of learning resources for RVNs. Practices really recognise the value of VNMAs and are continuing to send their nursing teams on multiple courses."

Upon completion of the course, RVNs will receive a BSAVA Veterinary Nurse Merit Award in Nutrition along with a certificate and badge. For further information visit the BSAVA's website or email courses@bsava.com