Blue Cross issues laminitis warning to owners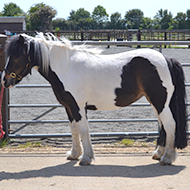 UK weather and lockdown restrictions raise risk factor for crippling disease

Blue Cross is urging horse owners to stay informed on how to recognise and prevent the potentially fatal equine disease laminitis across the autumn months.
According to the charity, any horse or pony is susceptible to the pasture-associated form of laminitis, but overweight animals are at higher risk. Additionally, seasons where grass is growing are the most dangerous.
Clare Bevins, Horse Welfare Supervisor at Blue Cross, said: "The combination of sun and rain that we have been experiencing in most of the UK recently, coupled with many horses still out on summer pasture significantly raises the risk factor for laminitis.
"Add to the mix the fact that some owners may still be struggling with their horses' weight given limitations on riding during the pandemic and potentially we have the perfect storm for laminitis."
The charity has shared the story of Piglet, a six-year-old skewbald mare, to help owners understand when to take action to protect their horses and ponies from laminitis.
Piglet experienced a major bout of laminitis in autumn 2018 and was sent to the Blue Cross rehoming centre in Burford for treatment. X-rays showed pedal bone rotation in both of her front feet. To treat this, her feet were trimmed every two weeks and pain relief was administered daily.
The pony was also placed on a strict weight loss programme, losing 21kg over the first four months of box rest. Piglet's body condition score dropped from 5 (obese) to a perfect 3 and, over the next two months, she was comfortable enough to be turned out for short stints on a soft surface.
Six months after returning to Blue Cross, x-rays revealed that both of Piglet's front pedal bones looked normal. The pony has since been rehomed with a family experienced in managing laminitis.
"Piglet was one of the fortunate ones – her laminitis was caught early, and immediate steps taken to treat the disease under the supervision of a vet and a remedial farrier." said Clare.
For more information on laminitis, please visit the Blue Cross website.
Image (c) Blue Cross.