Study suggests ion generators could be harmful to fish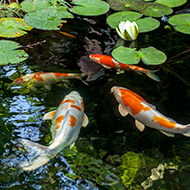 Researchers conclude generators produce toxic levels of copper and zinc.
Copper ion generators used to control algae growth in freshwater ponds generate high concentrations of metals that could be harmful to fish, according to new research.

The study, published in Vet Record, concludes that ion generators might not be safe for fish and that copper should only be used to prevent algae growth if concentrations are monitored closely.

In the study, researchers carried out physical and postmortem examinations on two koi fish that had died in a pond fitted with a copper ion generator (Aquascape IonGen). They concluded that heavy metal toxicity was the likely cause of morbidity and mortality, which was supported by a heavy metal screening of the owners' pond.

The team also carried out tests to see whether the IonGen produced toxic levels of copper and zinc. They found that the tank containing the IonGen had higher concentrations of copper and zinc, and copper levels exceeded those associated with toxicity in both hard and soft water.

The researchers conclude: 'Cu ion generators such as the IonGen can produce Cu concentrations that have detrimental effects on the health of koi. Although both Cu and Zn toxicities are dependent on water hardness and other geochemical parameters, the experiment suggests that the IonGen has the capacity to produce Cu at levels that are toxic regardless of water hardness.'

They continue: 'Cu ion generators should not be used in freshwater ponds that contain live plants and animals due to the risk of chronic and unpredictable Cu exposure, and veterinarians should consider Cu ion generators as potential sources for Cu toxicity in freshwater fish, especially in ponds with soft water.'

The study was conducted by researchers at the North Carolina State University College of Veterinary Medicine and the University of Pennsylvania School of Veterinary Medicine.