Strip grazing helps keep horses in shape, study finds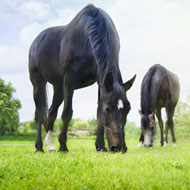 'Significantly lower bodyweight gains' for ponies with gradual access to pasture

New research into different equine grazing practices has shown that strip grazing could be a useful tool in restricting weight gain in horses.
The study was conducted by Annette Longland of Equine and Livestock Nutrition Services (ELNS) in Wales, in collaboration with equine feed manufacturer Spillers via the Waltham Equine Studies Group. It aimed to compare the effectiveness of three restricted grazing practices on equine bodyweight management during the UK grass growing season.
For the study, three groups of four ponies that had been equally matched for weight, height, and body condition score, were placed in paddocks with a herbage yield equivalent to 1.5 per cent (dry weight) of the ponies' body weight per day for 28 days.
The groups were allocated one of three grazing practices:
no other restriction

a lead fence placed across the width of the paddock, allowing access to fresh grass by moving it 1/28th of the paddock length each day

strip grazed with both a lead and a back fence, with the back fence being moved the same distance as the lead fence daily.
Every week the ponies were weighed and had their body condition scored. For ponies without any grazing restriction bodyweight gains were substantially higher, but there was minimal difference in weight gain for those with the lead fence and those with both a lead and back fence.
"The ponies with gradual access to pasture via strip grazing had significantly lower bodyweight gains than their counterparts who were allowed free access to the entire 28-day herbage allocation," said Clare Barfoot, marketing and research and development director at Spillers.
"If you are planning on turning your horse out to grass during this current (COVID-19) situation or at any other time it's certainly worth considering installing a strip grazing fence and moving it once a day."