New guidelines on the safe use of analgesia in horses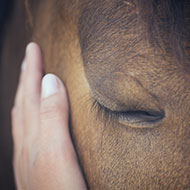 Recommendations aimed at equine primary care in an ambulatory setting
Clinical guidelines for primary care vets on the safe use of analgesia in horses have been published in the January issue of the Equine Veterinary Journal (EVJ).

The guidelines have been produced by the British Equine Veterinary Association (BEVA) and can be downloaded at https://beva.onlinelibrary.wiley.com/doi/10.1111/evj.13198

In human medicine, clinical guidelines are standard practice and have proven to influence clinical decision making in clinical settings. BEVA's set of clinical guidelines are the first to be aimed at equine primary care in an ambulatory setting.

Animal wefare can be significantly affected by pain and analgesia is considered to be key in helping to alleviate it. Put together by a panel combining clinicians and analgesia researchers, the guidelines summarise current evidence and combine it with expert opinion to provide best practice advice on common scenarios.

Key recommendations include:

Horses undergoing routine castration should receive intratesticular local anaesthesia irrespective of methods adopted and horses should receive NSAIDs before surgery. Butorphanol and buprenorphine should not be considered appropriate as sole analgesics for such procedures and analgesia should be continued for three days following castration.
For hoof pain/laminitis phenylbutazone provided superior analgesia to meloxicam and firocoxib but enhanced efficacy has not been demonstrated for joint pain.
In horses with colic, flunixin and firocoxib are considered to provide more effective analgesia than meloxicam or phenylbutazone.
A single properly validated composite pain score for horses should be developed, to allow accurate comparisons between medications in a robust manner.
"Given the risk of adverse events of all classes of analgesic, these agents should be used only under the control of a veterinary surgeon," explained Professor Mark Bowen, lead author of the guidelines. "The horse must have been fully evaluated and the vet must have devised a therapeutic, analgesic plan that includes ongoing monitoring for such adverse events such as the development of right dorsal colitis with all classes of NSAID and spontaneous locomotor activity and potentially ileus with opiates."

EVJ editor Professor Celia Marr added: "The BEVA primary care clinical guidelines provide up-to-date clarity on the fundamental aspects of equine pain management for the clinician and are essential reading for all those in first opinion ambulatory roles."