ITV show prompts animal welfare complaints from vets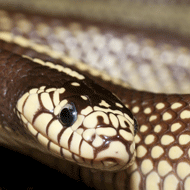 BVA calls for vet to be on set for UK 'I'm a Celebrity'

The BVA has sent an open letter to the producers of ITV's I'm a Celebrity Get Me Out of Here, raising concerns about poor animal welfare on the UK version of the show.

BVA said its members had reported particular concerns about an episode that aired in November 2018, in which snakes showed clear signs of distress when contestant Emily Atack placed her hand into their box. One of the snakes was then flung onto the floor.

Animal charity Wild Welfare also wrote to ITV Studios last year to highlight concerns about the task. BVA said there have been a number of well-documented animal welfare complaints, reported to television regulators year after year.

In separate episode last year, BVA said there were clear signs of distress from a variety of animals, during a task that saw Harry Redknapp crawling through small containers filled with bearded dragons, snakes and a crocodile.

Exotics vet Daniella Dos Santos, who is junior vice president of the BVA, said: "It's deeply worrying to see so many instances over the years where animals on I'm a Celebrity Get Me Out of Here are showing negative behaviour associated with distress and even times when mistreatment occurs.

"ITV may see this show as a jewel in its crown, but that must go hand in hand with setting a good example around the treatment of animals to the millions of people who tune in time and again."

In an open letter to the producers, BVA asked if a vet is present on set and if the production team are aware of the five welfare needs. BVA said it does not believe the incidents above display compliance with animal welfare legislation.

The letter reads: 'A decade on from your episode featuring a contestant killing and eating a rat (without any visible slaughter expertise), we remain concerned that animals' needs are not being met during the production of this show and they are often being harmed in the interests of sensationalism and lowbrow entertainment.'

BVA has offered to work with producers to advise on the use of animals in the upcoming 2019 series.
ITV has been contacted for comment.