Straw bedding and dry hay 'significant risk factors' for equine IAD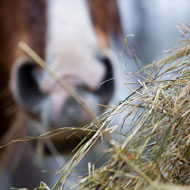 Researchers perform clinical exam on more than 700 active horses

Straw bedding and dry hay feed are significant risk factors for equine Inflammatory Airway Disease (IAD) and should not be used in performance horses, a new study has concluded.

Scientists writing in the Journal of Veterinary Internal Medicine assessed the presence of fungi in respiratory samples of 731 active horses with signs of respiratory disease or poor performance.

For each case, a clinical examination, an airway endoscopy, a tracheal wash (TW) and a bronchoalveolar lavage were performed. The researchers also collected data regarding the type of bedding (straw, wood shavings, and other) and hay forage (dry hay, moistened hay, damped hay, steamed hay, or haylage).

'In our study, straw bedding and dry hay feeding represented significant risk factors for IAD and for the presence of fungal elements in equine airways,' the authors conclude. Their use cannot be recommended in performance horses.

'Fungal spores naturally contaminate hay and straw during harvest. The storage of hay and straw can also lead to an exponential increase in fungal proliferation within the batches.'

Conversely, researchers found that wood shavings decreased the risk of IAD and the detection of fungal particles in the airways. The use of high‐temperature hay steaming also appeared to have a protective effect against the development of the condition.

'Hay steaming has been shown to significantly reduce bacterial as well as fungal contamination and could be an effective means to improve the hygiene of forage," the authors continue.
'Interestingly, soaking the hay, which is often recommended as a protective measure for horses with respiratory inflammation, did not significantly decrease the risk of being IAD nor the risk of having fungal elements in the airways.'

The study was conducted by scientists from The Equine Sports Medicine Practice, Waterloo, Belgium.