Fish appear to recognise themselves in the mirror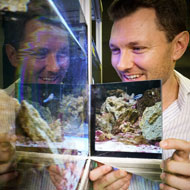 Study raises questions about how scientists test self-awareness in animals

Fish appear to be able to recognise themselves in the mirror, according to new research.

The study, published in PLOS Biology, observed cleaner wrasse fish responding to their reflection and attempting to remove coloured marks on their body.

The finding suggests that fish have higher cognitive abilities than first thought and has sparked questions about how scientists test self-awareness in animals that are so dissimilar to humans.

The research was carried out by researchers at the Max Planck Institute for Ornithology, the University of Konstanz and Osaka City University.

"The behaviours we observe leave little doubt that this fish behaviourally fulfils all criteria of the mirror test as originally laid out," explained Alex Jordan, principal investigator at the Max Planck Institute for Ornithology and the University of Konstanz.

"What is less clear is whether these behaviours should be considered as evidence that fish are self-aware - even though in the past these same behaviours have been interpreted as self-awareness in so many other animals."

In the study, scientists placed a coloured mark on fish in an area that could only be viewed in a mirror. To gain a 'pass,' the fish needed to touch or investigate their mark, showing an awareness of the reflected image.

The researchers witnessed the fish attempting to remove the marks by rubbing their bodies on hard surfaces after looking at themselves in the mirror.

The fish did not attempt to remove transparent marks in the presence of a mirror, nor did they attempt to remove the coloured marks when no mirror was present. This suggests that the fish were responding to the visual cue of seeing the mark on themselves in the mirror.

To the authors of the study, the results present clear evidence of behaviours that appear to pass every phase of the classic mirror test. What is not yet clear, however, is whether the evidence shows that fish possess self-awareness.
"Personally, I find the most parsimonious interpretation to be that these fish do pass the test as given, but this doesn't mean they are self-aware," Alex continued. "Rather they come to recognise the reflection as a representation of their own bodies without the involvement of self-consciousness.

"Given this, we should critically evaluate whether the mark test remains the gold-standard for awareness testing in animals."
Image (C) Max Planck Institute/S.Gingins.